VS1912 – Video wall media player with a difference
Posted on May 21, 2016 by KVMGalore | 0 comments
ATEN's new  VS1912 3-in-1 video splitter, media player, and video wall solution includes advanced video wall features and support for asymmetric layouts and advanced scheduling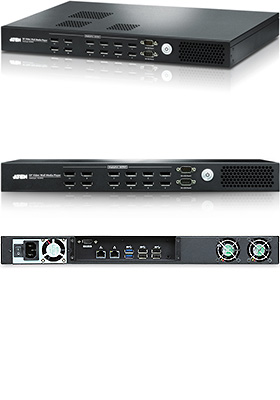 KVMGalore today announces the availability of the new ATEN VS1912 12-Port DisplayPort video wall media player.
This 12-Port DisplayPort video wall media player allows users to design creative video wall displays with overlapping media content and versatile video wall layouts – both standard and asymmetrical. ATEN's compact VS1912, unlike competing products, fits 12 ports neatly within its 1U housing.
"Our VS1912 3-in-1 video splitter, media player, and video wall solution allows you to create dynamic video wall displays with lego-block-like simplicity! It features a user-friendly web interface from which you can easily manage video wall content without limiting your creativity," comments Kevin Chen, President of ATEN International.
ATEN's 12-Port DisplayPort video wall media player has a built-in, intuitive web graphical user interface (GUI) which enables the administrator to remotely create the video wall profiles without needing to install additional software. Using it's scheduling tool for video wall setup, detailed playlists can be created up to a month in advance. VS1912 supports up to 12 displays in vivid 1080p resolution and is bundled with 12 DisplayPort to DVI active adapters, for added flexibility.
VS1912 has advanced video wall features which allow you to resize, layer (including Picture in Picture), span across multiple screens, and even rotate pictures and videos at 90° angles. This 3-in-1 solution can play multiple photos, videos, and office files simultaneously. Additionally, custom widgets allow you to add banners, video playback, flash media, images, and real-time clock displays over the screens.
VS1912 is ideal for multi-display applications which require an eye catching, dynamic visual display such as in show rooms, entertainment venues, and digital signage.
ATEN is the world-leading designer and manufacturer of advanced connectivity and management solutions. The addition of VS1912 to ATEN's professional AV product line establishes the company as a complete solution provider from the core to the edge.