New VS-62H 4K matrix HDMI switcher
Posted on July 30, 2014 by Kramer AV | 0 comments
Kramer Introduces New VS-62H Ultra HD Meeting Room Automatic Matrix Switcher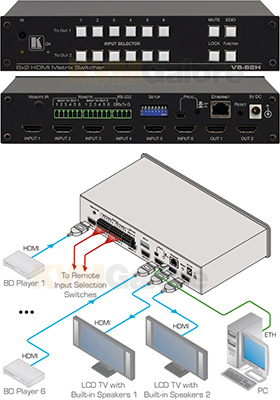 Kramer Electronics is pleased to announce the new VS-62H dual-output fully-automated, 6X2, HDMI matrix switcher. VS-62H is a 4K router with a total data rate capability of 8.91Gbps (2.97Gbps per channel) supporting Ultra HD (4K) signals.
VS-62H features a small desktop form-factor with embedded webpage control that allows full configuration of the system, in addition to the traditional Kramer P3000 protocol and front panel controls. The system features three levels of automation per-output (Last Connection, Priority and Manual Override). These simple modes allow for a controller-free operation which make VS-62H an ideal switcher for environments such as meeting-rooms, classrooms and entertainment venues. The video detection for automation is based on actual video clock signal recognition.
The two independent outputs are geared towards dual-screen or video-conferencing applications with resolutions of up to Ultra HD (4K). As part of the automation support, there is also a display standby feature that automatically turns off an output to which no input is routed. In compliance with the Kramer digital standards, the system fully re-clocks and equalizes the signals, enabling advanced EDID configuration and HDCP support control.