VM1600 modular 16×16 digital AV matrix switch
Posted on February 26, 2015 by KVMGalore | 0 comments
ATEN's new VM1600 modular 16x16 digital audio/video matrix router offers Seamless Switch™ technology w/ built-in scaler and video wall
VM1600 changes the way you see the world!
With video displayed across multiple screens to maximize marketing, live broadcasting and real-time monitoring, timing is crucial and gets even more challenging when integrated with a video wall system.
VM1600 offers real-time control and advanced access to manage up to 16 video sources and 16 displays simultaneously, through modular I/O boards in a single chassis. Empowered by ATEN Seamless Switch™ technology, the matrix switch, incorporating a speed-progressive video switching function and a unique scaler, integrates seamlessly with video wall systems - to project live video with precision in any dimension on a perfect timeline.
Elastic Expandability
The installation is fully expandable with modular I/O boards that provide plug-n-play connectivity with an extensive portfolio of analogue and digital A/V equipment. The modular I/O boards are hot-pluggable for any occasion that requires quick replacement of A/V connections without shutting down any existing service.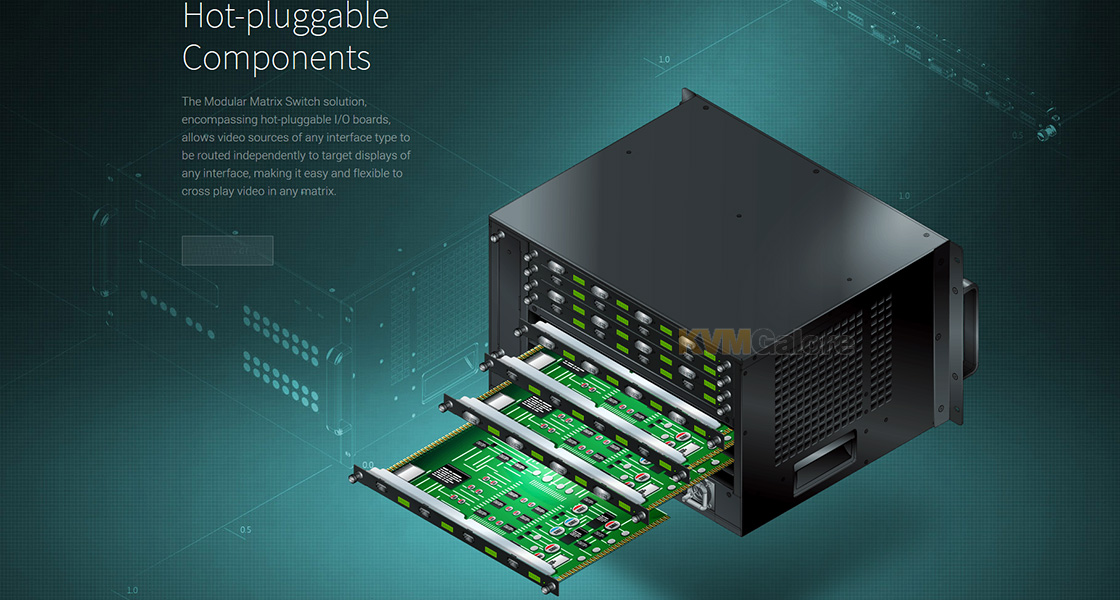 Seamless Switch

ATEN's EDID technology ensures that VM1600 provides the fastest switching speed between different inputs and outputs. The result: real-time, instant switching with no lag or artifacts, and a stable signal transmission.
Video Wall
Built into VM1600 is a high-powered video wall processor. With a state-of-the-art processor, VM1600 easily manages multiple wall configurations such as a 4x4 or 3x3 plus a 2x2, or four 2x2's. With a simple GUI interface for the user to customize the audio/video wall outputs, VM1600 provides high flexibility for multiple applications from one box.
Scaler For Optimum Video Performance
VM1600 has a built-in scaler that unifies video formats and provides continuous video streams, real-time switching and stable signal transmission. It is capable of high-speed switching between input/output ports – supporting TMDS high data transfer rates of up to 1080p /1920x1200 @ 60Hz to minimize latency. Outputs are automatically or manually set to match the native resolution of the display.
Integrated Control Mechanism
VM1600 features an all-in-one control mechanism that integrates video wall processing and matrix switching capability in a single chassis. This new approach not only simplifies installation with streamlined management, but contributes to overall system reliability.
"Our instantaneous switching technology provides fast and responsive switching from any input to any output, without any compromise in resolution or performance," explained Jack Wang CEO of ATEN. "VM1600 is a truly unique and fast matrix switch that provides optimal quality and speed for entertainment and surveillance environments."
Priced at $4,125, VM1600 is available now with selection of DVI and HDMI I/O cards. For more information on ATEN products and solutions, visit ATEN store on KVMGalore.com.