Ultra-short-depth LCD KVM consoles from ATEN
Posted on August 8, 2019 by KVMGalore | 0 comments
Ultra-short-depth LCD KVM consoles with single- or dual-rail design provide a space-optimizing solution for specialized control environments to free up your space and your flexibility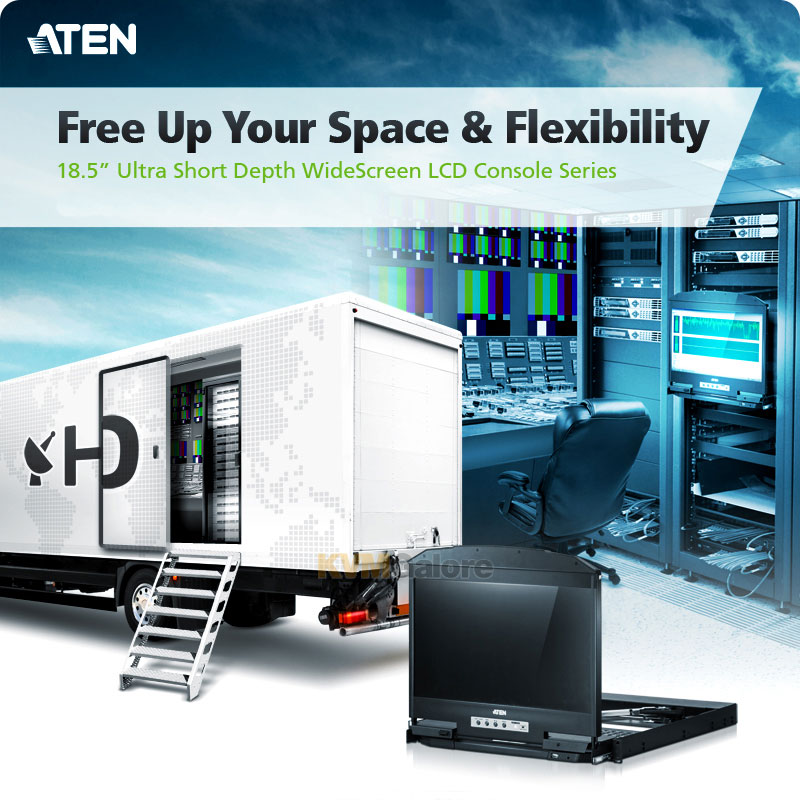 KVMGalore today introduced ATEN's new series of 1U 18.5" wide-screen ultra-short-depth LCD KVM consoles. The ultra-short-depth LCD KVM consoles feature industry-leading 17.7 inches ultra short depth and a unique dual-rail design, supporting all popular video input interfaces to ensure the maximum flexibility while saving valuable space. The new ultra short depth series provides a space-optimizing solution for specialized control environments, including outside broadcast vans (OB vans), portable rack mount cases or any computer room where space is at a premium.
The ultra-short-depth LCD KVM consoles provide:
Industry-leading ultra short depth design in a 1U 18.5" single- or dual-rail LCD console. It is especially suitable for shallow racks down to 17.7 inches depth and saves valuable space in computer rooms where space is at a premium.
Ultimate space saving for constant monitoring: The dual rail design enables the LCD monitor, keyboard and touch-pad to operate independently of each other. To maximize space utilization, the keyboard and touch-pad modules can slide back to "hideaway" when not in use, while the thin profile LCD monitor rotates back, flush against the rack, to allow the 24/7 monitoring of computer activity.
Second console for flexible deployment: For added convenience, users can choose to manage the connected computer (or KVM switch) from an external console. ATEN's ultra-short-depth LCD KVM consoles feature a port for an external USB mouse on the unit's front panel, while ports for the second KVM console (USB keyboard/mouse and HDMI, or DVI, or VGA monitor) are provided on the rear panel.
Support all popular video interfaces (HDMI, DVI, VGA): ATEN's ultra-short-depth LCD KVM consoles provide the ultimate installation flexibility by allowing users to connect the console to a computer (or KVM switch) using any of the three types of video sources.
Superior wide screen monitoring image: The 18.5" wide-screen LCD monitor ensures 16:9 video ratio and provides ample viewing area.

About ATEN
ATEN, established in 1979, is the leading provider of IT connectivity and management solutions. Offering integrated KVM, professional audiovisual, and intelligent power solutions, ATEN products connect, manage, and optimize electronics in corporate, government, industrial, educational, and retail environments. ATEN has 500+ issued international patents and a global R&D team that produces a constant stream of innovative solutions, resulting in a comprehensive portfolio of products available worldwide. Headquartered in Taiwan, ATEN has grown to include subsidiaries and regional offices in China, Japan, Korea, Belgium, Australia, the U.S., the U.K., Russia, Turkey and India – with R&D centers in Taiwan, China, and Canada.
Need help? Call KVMGalore at 1-800-636-3434 or submit your question.