Share. Connect. Charge.
Posted on July 19, 2013 by KVMG-CMS | 0 comments
MediaShair Wireless Media Hub with SD/USB Access Point and
Built-in Power Station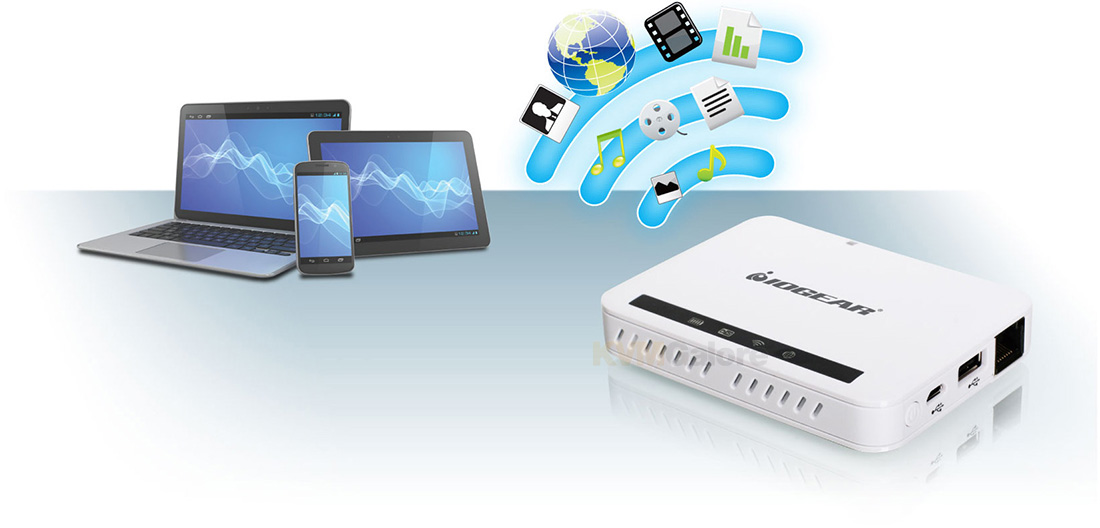 Tired of not having enough space on your iPad for your movie collection?  No problem, just plug in your external hard drive and access hundreds of movies at any time!
Taking the kids on a trip?  With MediaShair Hub they can each enjoy their favorite music and videos on their own wireless device.
Does your hotel room only have wired internet?  Simply plug the Ethernet cable into MediaShair Hub's RJ45 port and now all your wireless devices can connect to the internet.
Want to quickly share photos while on your trip?  Pop your camera's SD card into the slot on MediaShair Hub, and then view or save your photos on any wireless device in range.
Share
Share your movies, music, photos, and documents on the go and watch, listen, view or access them on almost any wireless device.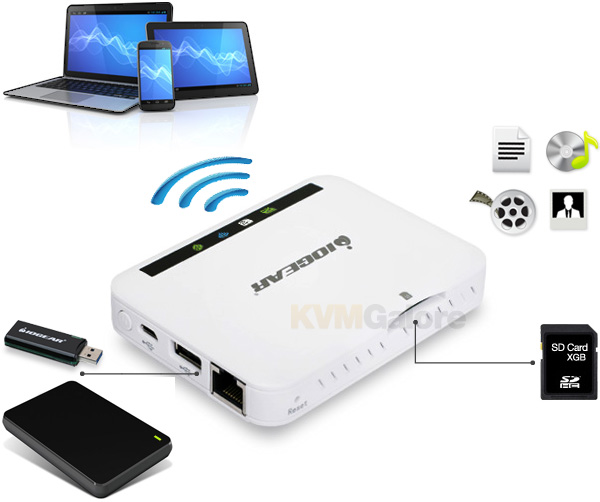 Connect
Access Point features allows internet connectivity by joining existing wireless network devices.
Simply plug in the rooms existing Ethernet cable into MediaShair Hub.


Charge
Charge nearly any smartphone with the MediaShair Hub.  Charge your iPad, iPhone, or Android with your charging cable.

Features
Stream movies, music, photos and documents to 7 devices
Built-in Wi-Fi network
SD card reader
USB for flash drive or external hard drive connection
Built-in battery for up to 9 hours of playback while on-the-go
Ethernet port converts wired internet to Wi-Fi
Free iPod/iPhone/iPad & Android Apps
Included car charger keeps MediaShair powered on the road
FAQ
1. Q: Will this work with my... iPhone, android phone, laptop, desktop?
A: MediaShair includes free downloadable apps for iPod®/iPhone®/iPad® and Android devices, and for other devices you can simply enter MediaShair Hub's IP address into the web browser address bar of any laptop, desktop, smartphone or other smart device.  Media playback is limited to the file formats supported by your device.
---
2. Q: Is the Wi-Fi secure?
A: The Wi-Fi network name and password can be changed as needed, and the default encryption setting is WPA2 for proper network security.
---
3. Q: What formats can I stream?
A: The file formats are limited to those supported by your device.  Laptops and PCs can stream nearly any file supported by the installed software on the computer.  Android devices can use the stock media player or those offered by third parties to play a multitude of file formats.  Apple devices can play formats supported by the native media player built into the Apple operating system.
---
4. Q: How long does it take to charge the device?
A: Normal charge time is approximately 3 hours with the included 1A charger.  Connecting to a standard USB port will charge MediaShair Hub, but will increase the charging time.
---
5. Q: Will this charge my smartphone or tablet?
A: Yes, MediaShair Hub's internal battery can provide emergency charging for most smartphones and tablets if needed.  Remember the playback time for your streaming media will be greatly impacted when using the internal battery in Powerstation Mode, and tablets are likely to receive only a small recharge since they typically have extremely large batteries.
---
6. Q: Can I transfer the SD card from my camera and share the photos?
A: Yes. Simply put your SD card into MediaShair Hub's SD slot and connect your mobile devices to MediaShair Hub network to view your photos on multiple devices simultaneously.
---
7. Q: Can I connect different devices at the same time?
A: Yes, you can connect a combination of up to 7 different mobile devices at the same time.
---
8. Q: What is the WiFi range?
A: Wi-Fi range is impacted by walls and other wireless networks, so while the average range is about 50', it can be reduced in high interference areas or increased in wide open spaces.
---
9. Q: Can I share up to 7 large movies at the same time?
A: Yes. You can share with 7 different devices at the same time, each connected to a different movie.  The same movie can normally be streamed to 3-5 devices depending on proximity to MediaShair Hub and the size/format of the file.
---
10. Q: How do I connect to the device to watch movies, music, photos, etc.?
A: First, plug content into MediaShair Hub's SD slot or USB port.  Then for Android or Apple devices simply download MediaShair App from the Google Play Store or the App Store, then connect to the MediaShair Hub's Wi-Fi network.  For laptops and other smart devices, simply connect to MediaShair Hub's Wi-Fi network then open a browser window and enter MediaShair Hub's IP address to access media content and system tools.
---
Need help? Call KVMGalore at 1-800-636-3434 or submit your question.