Raritan Cat5 Reach DVI HD
Posted on February 2, 2019 by KVMGalore | 0 comments
Raritan Cat5 Reach DVI HD KVM extender extends the reach of remote server management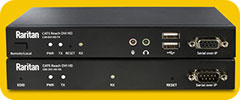 KVMGalore today added a new solution, the Raritan Cat5 Reach DVI HD KVM extender to its portfolio of KVM extenders, to extend up to 330 feet the reach of KVM management to servers, PCs, and other devices. The extended access-and-control capabilities provide more flexibility and boost productivity.
The solution includes a transmitter and receiver pair for use with a CATx cable.  By plugging a keyboard, video, and mouse into the receiver, IT administrators can place the user console anywhere from 330 to 3300 feet away from the target server or device to be managed.  IT administrators, for example, can use the extender to access equipment in a nearby control room or an area adjacent to a data center.
Raritan Cat5 Reach DVI HD's remote access-and-control capabilities also help minimize risk by enabling users to store PCs, servers, and KVM switches in secure, non-harsh environments, as well as eliminate physical trips to equipment rooms.
Like other Raritan offerings, the Raritan Cat5 Reach DVI HD KVM extender delivers high quality HD video resolution for a great user experience.  With 1080p HD video-quality resolution, it is almost impossible to differentiate whether you are working in front of a server or in another location away from the server rack. The extender also provides superior 1920x1200 @ 60Hz and 1080p @ 60fps (frames per second) video quality.
"Our KVM solutions are designed to help IT teams manage more — servers, devices, locations, technology platforms — manage more efficiently, and do it securely and from anywhere it is convenient," says Raritan Director Richard Dominach.  "It's a huge productivity boost for IT administrators."
Top Cat5 Reach DVI HD KVM extender features:
Supports DVI, VGA and audio output
Provides dual console support enabling local and/or remote control
Extends keyboard, video and mouse signals from 330 to 3300 feet (via IGMP and Jumbo frame' Ethernet switch daisy-chaining)
Supports a wide range of configurations and Raritan KVM switches. Also supports USB devices, such as touch screen, USB printer, USB barcode reader, USB thumb drives
About Raritan's KVM Portfolio
Raritan's KVM switches can be found in data centers around the world. Designed for customers requiring secure server access from anywhere, Raritan flagship KVM switch, the Dominion KX III, enables multiple IT administrators — remote and local users — to access multiple servers. They provide BIOS-level access, so that all servers, including blades, are always accessible— even if a server's operating system is not working. The KX III also enables remote installation of software, file transfers, data backup and diagnostics with its universal virtual media feature, and can control power to servers with optional remote power strips. Dominion KX III includes security features such as a FIPS 140-2 certified cryptographic module, smart-card/CAC authentication, and IPv6. And with dual power supplies and dual gigabit Ethernet ports, Dominion KX III is the most reliable and secure digital KVM switch in the industry.
About Raritan
Raritan, a brand of Legrand, is a global leader in intelligent rack PDUs, KVM switches, and other data center infrastructure monitoring and management solutions. Raritan's innovations improve the reliability, efficiency, and intelligence of data centers and server rooms around the globe — including those of the top Fortune 500 companies, such as Cisco, Dell, Google, HP, IBM, Intel, and Microsoft.
Need help? Call KVMGalore at 1-800-636-3434 or submit your question.