RAC10 airflow control system
Posted on July 21, 2014 by KVMGalore | 0 comments
An intelligent fan system that evacuates heat from small network closets
IT WatchDogs developed an intelligent fan system that monitors and evacuates heat from small network/IT rooms and data center closets.
The self-contained RAC10 system installs within standard ceiling tile structures or walls and is designed to remove heat generated by critical IT equipment housed in confined spaces. Sensors monitor the room temperature and automatically control the speed of RAC10 fan units as the temperature fluctuates.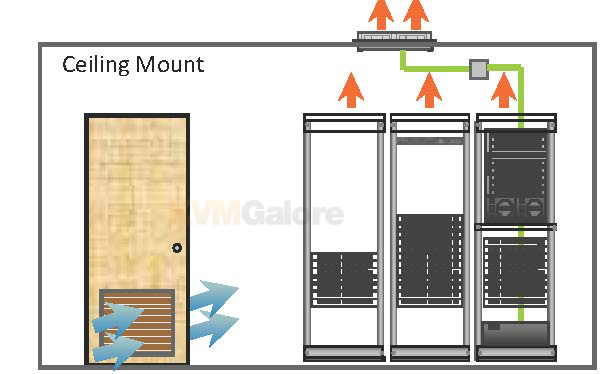 "Thousands of businesses rely on small network/IT rooms. RAC10 provides a simple yet sophisticated method to protect these critical resources from overheating," said Brad Wilson, Executive Vice President of Geist (parent company of IT WatchDogs). "Most facility departments can easily install the system and have it operational within a few hours."
RAC10 can trigger multiple/escalating alarms if temperature falls outside of specified parameters via SNMP (v1, v2c, v3), email and SMS messages (e-mail to SMS gateway).
Add up to 4 climate and power sensors for a comprehensive solution to maximizing efficiency and preventing climate and power related downtime. Receive alerts via Email, Email-to-SMS and/or SNMP traps when user-adjustable thresholds are breached.
RAC10 serves active Web pages displaying real time readings and graphs of temperature data logs in standard format (downloadable as XML or CSV file). Graphing scales are fully adjustable.
RAC10 requires no software other than a standard web browser. An Ethernet network connection with a standard RJ45 connector is used to send data in standard TCP/IP packets. A simple, easily configured menu is provided via a web browser. The connection is password protected with 3 access account levels: Administrator, Control, and View Only. Securely access the monitor over the internet or through an intranet by entering its IP address.
For larger IT rooms, users can implement multiple RAC10 units to manage greater airflow demands.
Need help? Call KVMGalore at 1-800-636-3434 or submit your question.