One 1080p Source. 100 Displays. Video over IP.
Posted on April 30, 2013 by KVMG-CMS | 0 comments
New daisy-chain system from Gefen extends 100 displays by daisy-chaining from one display to the next using video over IP technology


Digital connectivity solutions provider Gefen today announced the availability of its new Daisy Chain HDMI Distribution System, which creates a large infrastructure for wiring displays using CAT-5 cable.  The system includes sender, splitter and receiver units—all interconnected in a daisy chain concept.  All three units work together to extend 1080p full HD with RS-232 and IR control signals using the same CAT-5 cable.
Similar to a tree scenario, the system uses splitters to create new "branches".  Users can create up to ten branches each supporting ten displays.  Individual displays can be mounted next to each other or up to 330 feet  apart.  Source video is sent to the sender then over a single CAT-5 cable to the splitter.  The splitter outputs two signals: one that connects to a receiver and display; another that connects to another splitter.  Each splitter also provides one HDMI output for a local display connection.  Alternatively, the Daisy Chain HD System can create a straight daisy chain to 30 displays from one splitter to the next splitter.
This new system works with all hi-def displays and video sources using HDMI supporting Blu-ray players, satellite set-top boxes and tablets.  IR and RS-232 controls key features of the display, including powering displays on and off and switching source inputs.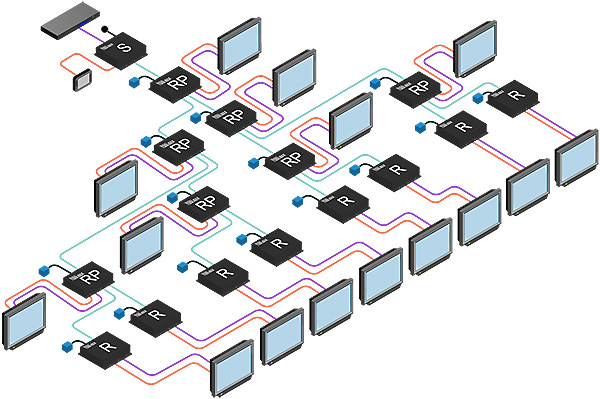 Need help? Call KVMGalore at 1-800-636-3434 or submit your question.