New HDX-PoE extends HDMI with only one power supply
Posted on May 13, 2015 by KVMGalore | 0 comments
New HDX-PoE HDMI extender with PoE over CAT-5/6 from Smart-AVI gives users flexibility in inexpensive signal extension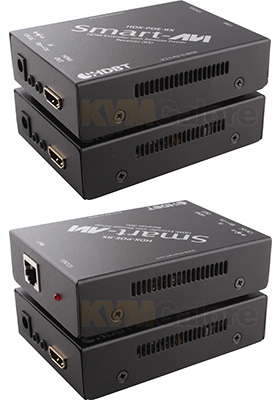 For uncompressed HDMI signal extension with Power over Ethernet (PoE) , the new HDX-PoE from Smart-AVI extends HDMI, infrared (IR) and power signals  over single cable up to 250 feet. Using PoE allows for transferring electrical power via the same cable which gives users the freedom to install with no power at a remote place. HDX-PoE extenders also enable the user to choose the PoE direction from transmitter to receiver or vice versa.
HDX-PoE also supports infrared IR extension.
Smart-AVI developed this product to expand its line of HDMI extenders with guidance from customer feedback. With HDX-PoE, users will find an affordable device that utilizes HDBaseT technology. The remote power technology gives users an aggressively-priced and user-friendly system to manage wire organization.
A key feature of HDX-PoE is its use of inexpensive CAT-5/CAT-6 cables. These are the same cables that people rely on to deliver LAN and Internet signals. For the extension of HD signals, CAT-5/CAT-6 cables provide users with an economical way to send crystal clear HDMI signals quickly and effectively.
HDX-PoE can be considered a further enhancement to the existing HDbaseT standards.  It doesn't, however, require many changes to the older Ethernet cabling or equipment with the exception of adding a power injector to the CAT-5/CAT-6 cables. This technology can also be powered by plugging in any side of the extender or plugging it into both sides.
The biggest benefit of HDX-PoE is that it allows for a centralized power backup. This helps all the extenders to be operated from a centralized point. Also, if further HDX-PoE units were to be added, they can be directly linked to the center point.
"Users need the freedom and flexibility to create the right signal flow for their needs, and our newest signal extenders give systems architects lots of options," said Albert Cohen, CEO of Smart-AVI. "Even better, these are cost-effective solutions that are easy to implement."
For more information on the HDX-PoE and to learn more about all of the professional AV products Smart-AVI offers, visit Smart-AVI store on kvmgalore.com.