NetShair Link – Share. Wi-Fi. Travel. Charge.
Posted on October 18, 2013 by KVMG-CMS | 0 comments
Portable Wi-Fi Router and USB Media Hub.
Begin your sharing spree with the free NetShair App! Simply download it and let the sharing begin! Available in the App Store and Google Play Store. 

Everyone is satisfied when they get a piece of your Internet.
Share
Plug it, present it, and share files and documents easily in the boardroom with your co-workers or clients during the big presentation, simply download the NetShair App. Now everyone can see your information directly in-front of them with little to no hassle!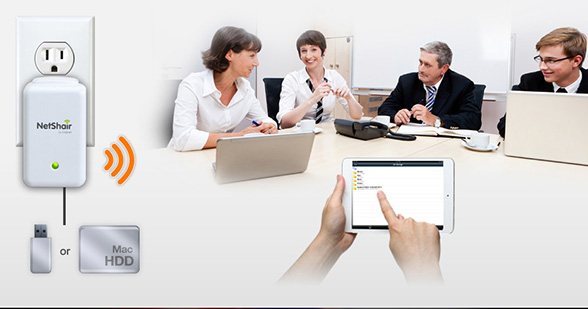 Wi-Fi
NetShair is your personal router, repeater and hotspot. NetShair gives you the ability to share Internet in a hotel room, conference room or small office! NetShair can take your wired Internet and give you a wireless connection for up to seven iOS and Android devices - perfect for traveling! Everyone is satisfied when they get a piece of your Internet.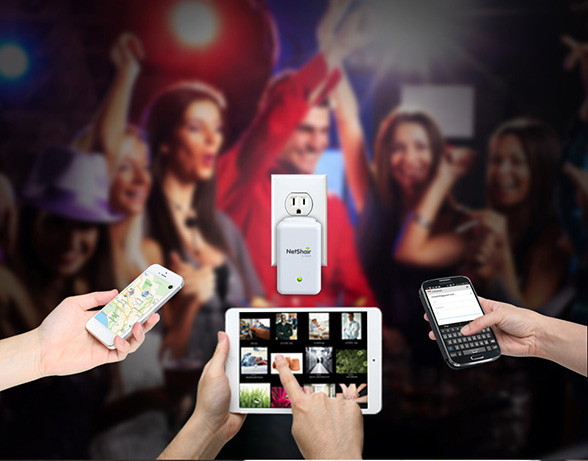 Travel
This small device is made for convenience for the on-the-go individual. NetShair is perfect for business in hotels, conference centers or vacations with family and friends. Small enough to fit in your pocket, laptop bag or purse, you can take NetShair to fit any of your business needs.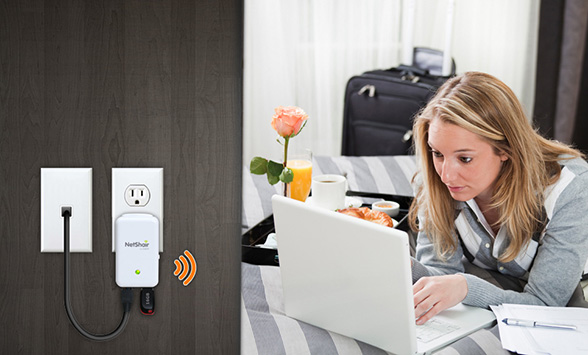 Charge
Why bring so many different chargers on vacation when you can just take your NetShair Link? With the built-in USB port plus dedicated 2.1A USB charging port, you can keep your iPad, tablet, phone, etc. powered up while leaving all those other chargers at home!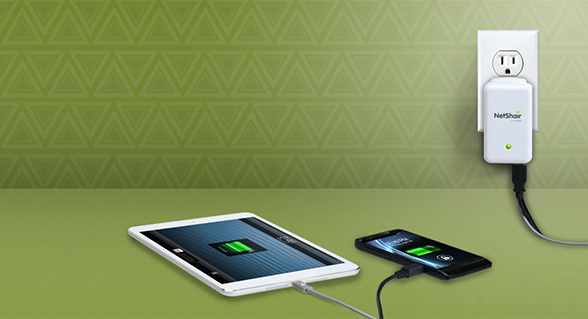 FAQ
1. Q: Will this work with my... iPhone, Android phone, laptop, desktop?
A: Yes. NetShair Link  includes free downloadable apps for iPod®/iPhone®/iPad® and Android devices, and for other devices you can simply enter NetShair Link's IP address into the web browser address bar of any laptop, desktop, smartphone or other smart device. Media playback is limited to the file formats supported by your device.
---
2. Q: Is the Wi-Fi secure?
A: Yes. The Wi-Fi network name and password can be changed as needed, and the default encryption setting is WPA2 for proper network security.
---
3. Q: What formats can I stream?
A: The file formats are limited to those supported by your device. Laptops and PCs can stream nearly any file supported by the installed software on the computer. Android devices can use the stock media player or those offered by third parties to play a multitude of file formats. Apple devices can play formats supported by the native media player built into the Apple operating system.
---
4. Q: Does the NetShair Link work with both PC and Mac formatted drives?
A: Yes. NetShair Link has built-in drivers to read PC and Mac formatted storage devices. With drivers for NTFS, FAT32, and HFS+ NetShair Link is compatible with nearly all pre-formatted Windows and Mac drives.
---
5. Q: Will this charge my smartphone or tablet?
A: Yes, NetShair Link's built-in dedicated 2.1A USB charging port will fast charge almost all mobile devices such as iPad & iPhone, Galaxy Tab and Kindle Fire HD, etc. If the USB Media Port is not being used, it can become a second charging port for a phone or MP3 player.
---
6. Q: Can I connect a printer or webcam to NetShair Link USB port?
A: No. The USB supports storage media access only.
---
7. Q: Can I connect different devices at the same time?
A: Yes. You can connect a combination of up to 7 different mobile devices at the same time.
---
8. Q: What is the WiFi range?
A: Wi-Fi range is impacted by walls and other wireless networks, so while the average range is about 50', it can be reduced in high interference areas or increased in wide open spaces.
---
9. Q: How do I connect to the device to display media, documents, presentations, etc.?
A: First, plug content into NetShair Link's USB port. Then for Android or Apple devices simply download NetShair App from the Google Play Store or the App Store, then connect to NetShair Link's Wi-Fi network. For laptops and other smart devices, simply connect to NetShair Link's Wi-Fi network then open a browser window and enter NetShair Link's IP address to access media content and system tools. 
---
Need help? Call KVMGalore at 1-800-636-3434 or submit your question.
Categories: Android, iMac, iPad, iPhone, New Products, Smartphones, Tablets, USB Accessories, Wireless
Tags: Android, charger, hotspot, Internet, IOGEAR, iOS, NetShair Link, repeater, router, USB charger, Wi-Fi, wireless