Low cost DVI video extension over CATx
Posted on July 7, 2013 by KVMGalore | 0 comments

Professionals requiring high resolution video extension in the work-space now have a new option for DVI extension.  Gefen just announced the availability of its DVI ELR (Extra Long Range) Lite extender. This new extender provides a less expensive option for many applications in smaller venues that don't require the full 100 meter distance while maintaining the same level of quality.
Distances up to 230 feet (70m) can be reached using one CAT-6 cable, and distances up to 200 feet (60m) can be reached using a single CAT-5 cable.  The DVI ELR Lite Extender supports resolutions up to 1920x1200.  ELR technology from Gefen uses HDBaseT to extend high resolution data using industry standard, un-shielded cable.
"The new DVI ELR Lite is something we wanted to provide to smaller studios that still need to extend DVI but don't require the full length of 100 meters," explained Hagai Gefen, president, Gefen . "So you have some options now when you're equipping your studio and you'll still get all the benefits of ELR extension, but at a lower price point."
Installation requires a simple connection of the computer or video source to the sender unit, and the extended display to the receiver unit.  One CAT-5 cable connects sender to receiver, delivering high resolution video with zero delay.  Sender and receiver modules have a small footprint and can be mounted on the desktop for easy operation.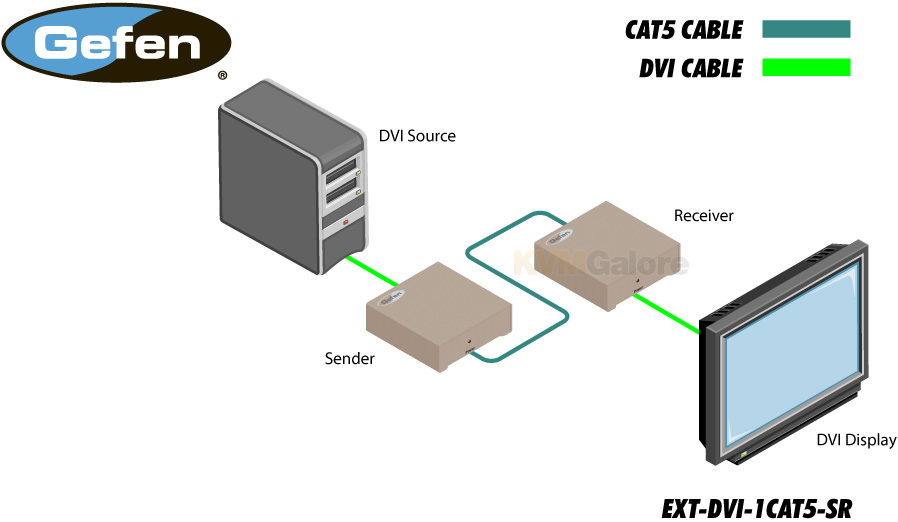 Need help? Call KVMGalore at 1-800-636-3434 or submit your question.