Lengthen the distance DisplayPort can travel over standard copper cables
Posted on May 1, 2013 by KVMGalore | 0 comments

New DisplayPort Booster from Gefen makes it easy to go beyond the specified 15 meter (50 ft.) distance DisplayPort can travel without loosing signal integrity.  Whether you want to extend your personal computer to a better workspace or mount a professional display on the wall that's far from the computer source, the DisplayPort Booster can operate in a range of 150 feet (45m).
With the DisplayPort Booster, you can use a standard copper cable up to 150 feet in distance to connect your source to the extended display.  The Booster, which measures approximately 2x2 inches, sits between the long copper cable and the display, essentially boosting the signal to its final destination at resolutions up to 1920x1200.  For higher resolutions up to 2560x1600, the DisplayPort Booster can double the specified distance of DisplayPort up to 100 feet (30m).
In most cases, the Booster will not require power to operate, drawing its power from the source.  In the rare instance that the source is unable to power it, the Booster comes with a 5v power supply.
HDCP compliance and EDID information are also transmitted for an impeccable performance at the extended location.  The DisplayPort Booster is compatible with all previous DisplayPort versions and comes with a trim-switch equalizer to optimize signal quality.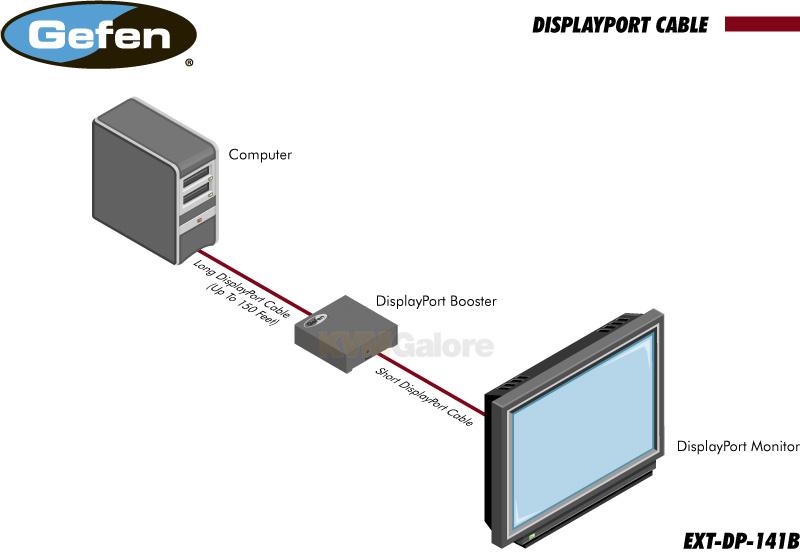 Need help? Call KVMGalore at 1-800-636-3434 or submit your question.