New VP-470 ProScale 3G HD-SDI scaler
Posted on March 24, 2014 by Kramer AV | 0 comments
Kramer introduces VP-470 3G HD-SDI scaler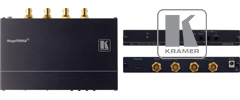 Kramer Electronics is pleased to announce the introduction of VP-470 ProScale 3G HD-SDI Digital Scaler. VP-470 is a digital scaler for SDI signals up to 3G HD-SDI resolution. It up- or down-scales SD, HD and 3G HD-SDI signals to one of 16 resolutions of up to 1080p @60Hz.
VP-470 is ideal for use in broadcast applications. The output of VP-470 can be used to feed a production switcher, edit suite, or router in a television studio. It can take the feed from a satellite receiver and scale it before it is sent out live over the air. In production, it can scale camera feeds coming in from the field before ingesting the footage into a video server.
VP-470 has one SDI input and looping output for a local monitor on BNC connectors to accept an SD, HD or 3G SDI signal. Its input automatically detects the incoming signal format. Supported formats include SMPTE standards 259M (SDI), 292M (HD-SDI) and 424 M (3G HD-SDI). The VP-470 simultaneously outputs the scaled signal to two active outputs on BNC connectors.
VP-470 supports output resolutions of 480i @59.94Hz, 576i @50Hz, 720p @50/59.94/60 Hz, 1080i @50/59.94/60Hz, 1080p @23.98/24/25/29.97/30Hz and 1080p @50/59.94/60Hz.
VP-470 features a built-in proc amp that can adjust the brightness, contrast, and color of the output signal. These picture can be conveniently adjusted via the on-screen display (OSD) of VP-470, accessed by the front panel buttons. Also included on the front panel is a button for image freeze. These settings are stored in non-volatile memory that retains the last settings used.
VP-470 also has selectable output aspect ratio settings of Full (default), 16:9, 16:10, 4:3 or Best Fit and it has the ability to turn over-scan on or off.
VP-470 features an external 5V DC power source, making it suitable for field operation and it is housed in a compact Kramer MegaTOOLS™ enclosure.
VP-470 is currently in stock and available from KVMGalore.
Need help? Call KVMGalore at 1-800-636-3434 or submit your question.