KE6900 and KE6940 DVI KVM over IP extenders with multicast
Posted on November 29, 2014 by KVMGalore | 2 comments
ATEN introduces DVI KVM over IP extenders with multicast connectivity and flawless, real-time video performance
KE6900 and KE6940 series provide the capability to extend, share, switch or multicast computers over long distances via standard CAT-5e cable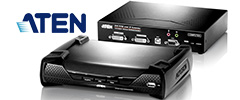 KVMGalore today announced the availability of ATEN's Altusen™ KE6900 and KE6940 DVI KVM over IP extender products. Leveraging ATEN's expertise in developing Over IP KVM solutions, KE6900 and KE6940 products offer an IP-based DVI KVM extender that allows access to a computer system from a remote console (USB keyboard, USB mouse, DVI monitor) located anywhere on a local area network (LAN).
Supporting one or two DVI displays at each end, KE6900 and KE6940 provide the capability to extend, share, switch or multicast a transmission from anywhere with video resolution up to 1920x1200 @ 60fps. It is the ideal solution for post-production, control and monitoring, retail, healthcare, surveillance, training, and government applications that demand real-time, high-quality graphics with fluid control.
KE6900 and KE6940 DVI KVM over IP extenders consists of transmitter units that connect to the computer and receiver units that provide console access from a separate location. The computer is accessed from the remote console over a standard TCP/IP network via CAT-5e cable that allows point-to-point, point-to-multipoint, and multipoint-to-multipoint administration.
Integrating ATEN's advanced graphics processor, KE6900 and KE6940 both deliver video with the same vivid and sharp quality on the remote console without latency, regardless of the distance between users and computers.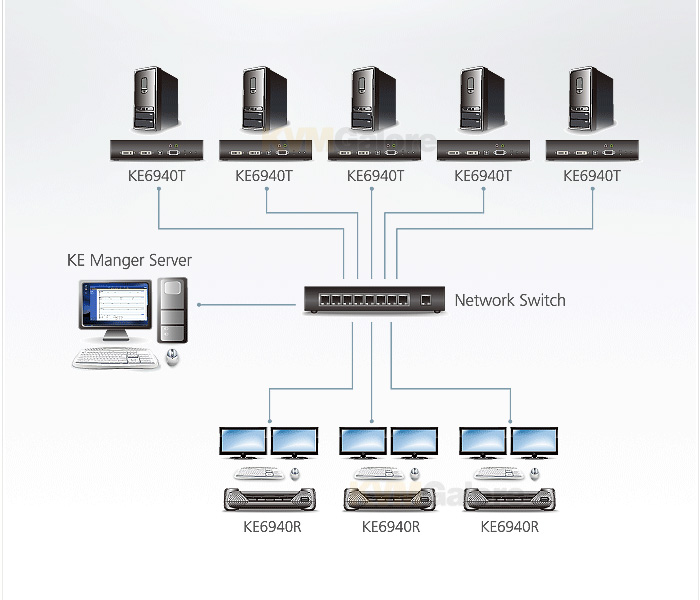 In addition, the ATEN KE Manager management software allows easy administration of all KE6900 and KE6940 devices over a network. This scalable and dynamic management system uses and intuitive user-friendly web-based GUI, providing the capability to manage both the transmitter and receiver devices and peripherals such as USB keyboard / mouse, USB storage devices and display monitors.
Through ATEN's KE Manager management software, KE6900 and KE6940 support advanced features for username and password authentication, user authorization and auto-detection of all devices that can be switched and shared. With security in mind, KE6900 and KE6940 adopt AES-128 bit encryption for secure transmission while RADIUS, LDAP, AD or remote user authentication provide further security.
"Our new DVI KVM over IP extenders are allowing organizations to support business-critical applications without compromising their security or high-quality video resolution," explained Jack Wang, CEO of ATEN. "Altusen KE6900 and KE6940 not only remotely control computers across long distances within a local network, but provide scalability and a dynamic management system to support business-critical applications."
Altusen KE6900 and KE6940 DVI KVM over IP extenders are available today. For more information on ATEN products and solutions, visit ATEN's store on KVMGalore.com.