KD-MLV4x2 Multi-view 4K HDMI matrix switcher
Posted on June 22, 2015 by KVMGalore | 0 comments
KD-MLV4x2: Multi-view series 4K matrix switcher from Key Digital®
Key Digital®, an award winning (CES, InfoComm, CEDIA, NAHB) manufacturer of leading-edge technology for HDTV applications, introduces the Multi-View series KD-MLV4x2 4K matrix switcher.
Key Digital's Multi-View series KD-MLV4x2 is a seamless matrix switcher with Ultra-HD/4K resolution up-scaling, multi-view window processing, analog to digital conversion of incoming VGA or YPbPr (component) with analog audio signals, audio de-embedding, and independent audio from video matrix selection.
KD-MLV4x2 is designed to fit a wide variety of professional video installation and live-event needs. It is ideal for digital signage, video wall, conference & board room, class room, home-theater, and bar/restaurant applications.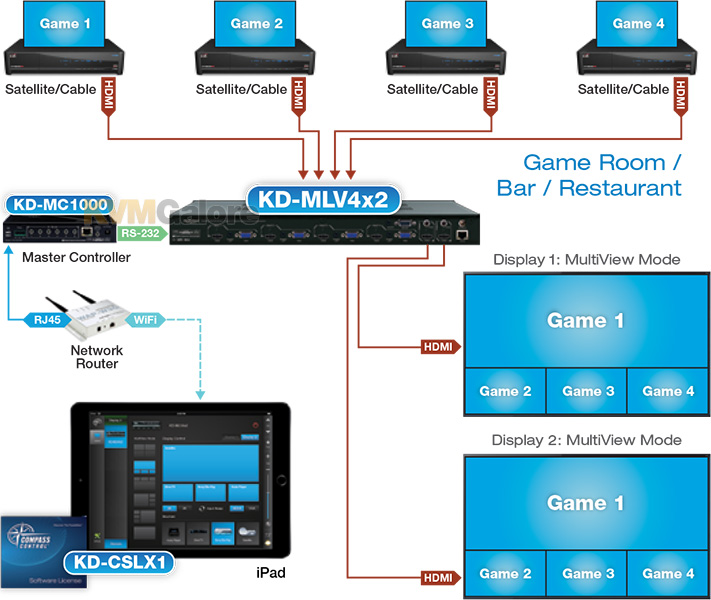 Today's installers need reliable, easy, and fast integration of video and audio in commercial and residential applications. KD-MLV4x2 simplifies 4K multi-view installations by offering all video, audio, and control capabilities needed for the most technical applications and is backed with a lifetime warranty. As leaders in digital video technology, Key Digital® produces a variety of HDMI switchers to provide solutions to installers of commercial and residential A/V systems.
For more information on how Key Digital® is revolutionizing digital video transmission, visit Key Digital® store on kvmgalore.com.