ToolBox 4×1 Switcher for HDMI supports the newest Ultra HD displays
Posted on November 1, 2013 by KVMG-CMS | 0 comments
Gefen's new ToolBox 4x1 switcher for HDMI 4Kx2K delivers resolutions up to 4K supporting the newest Ultra HD displays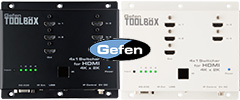 KVMGalore today announced that Gefen's ToolBox 4x1 Switcher for HDMI 4Kx2K is available to order. This new Gefen switcher connects four high definition sources using HDMI to one display.
HDMI 2.0 support is included for this Ultra HD product supporting 4K 60Hz resolutions with 3D pass-through. The inclusion of Gefen FST (Fast Switching Technology) virtually eliminates signal latency, providing an instant switch of audio/video content.
These new features and the fact that it can also support 1080p full HD makes the new ToolBox 4x1 Switcher for HDMI 4Kx2K best suited for installations that have upgraded their display to 4K and still want access to their sources such as gaming consoles and satellite set-top boxes as well as laptops and computers. Ultra HD content will be delivered at 4k resolutions while high definition content will be delivered at 1080p resolutions.
Full HDCP compliance and support for lossless audio formats such as Dolby TrueHD and DTS-HD Master Audio complete the features.
As a Gefen ToolBox product, this switcher comes in a flat black or white wall-mountable enclosure that can be discreetly mounted behind the display or anywhere that is convenient for the integrator, providing an alternative to traditional rack mount equipment.
Control options include traditional push-button access, IR remote, RS-232 or IP via Telnet and UDP. This switcher can also upgrade its firmware from anywhere by using the mini-USB and IP ports for a lifetime of performance.
Need help? Call KVMGalore at 1-800-636-3434 or submit your question.