Dominion KX III user station – better than a PC
Posted on June 10, 2016 by KVMGalore | 0 comments
Dominion KX III user station for broadcast and control room operations
Dominion KX III user station is a productive and powerful IP user interface to view, access and control workstations and servers, remotely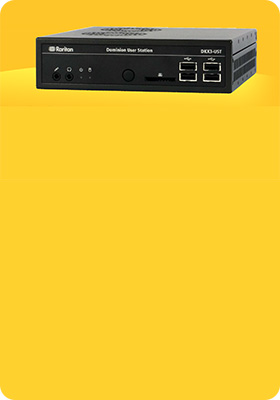 Introducing DKX3-UST - Raritan's new IP user station for the Dominion® KX III digital KVM switch.  Together they provide technicians, operators, engineers and IT professionals with an economical IP-based solution for high-performance remote access to IT devices with the industry's most productive and powerful user interface.
Ideal for the work done in broadcast studios, control rooms and labs, as well as offices and data centers, Dominion KX III user station solution supports two 1920x1080 video sessions at 30 frames per second, sub-second switching between servers, and eight or more simultaneous KVM-over-IP sessions over single or dual monitors.  Unlike other high-performance KVM solutions that require a separate network, users can access and control multiple servers and other equipment over the corporate LAN and/or WAN.  Moreover, Dominion KX III user station's web-browser interface enables authorized users to access connected equipment using their laptop or PC while traveling or for emergency access from home.
"The new IP user station offers versatility; it can be used to replace or supplement expensive, inflexible broadcast systems or be used as a console in a lab, studio or operations center.  It can support the high-performance needs of technicians or operators, as well as BIOS-level access and virtual media for IT and broadcast engineers," said Richard Dominach, Director of Product Management at Raritan.  "Like the KX III, the new user station was designed to boost productivity by delivering the best performance, reliability, usability, compatibility and security.  Analog (VGA) and digital video formats, including DVI, HDMI and DisplayPort, are all supported."
Dominion KX III user station appliance can be conveniently located in the same room or miles away from the KX III switches connected to servers and other equipment.  Using economical and scalable CAT-5, Ethernet and TCP/IP technologies, any user station can access any KX III switch throughout the enterprise.  The user station can sit on a desk, be mounted onto a standard 19" rack, or VESA-mounted on the back of a monitor.
About Dominion KX III
Raritan's Dominion KX III enterprise-class, secure KVM-over-IP switches provide BIOS-level remote management of up to 64 multi-platform servers and serial-based devices in a single switch.  With BIOS-level access, a server is always accessible and can be remotely rebooted in the event a server's operating system is not working.
Click here for more information on Dominion KX III.
Availability and pricing
Available from KVMGalore, Dominion KX III user station is only $789.  Together with the Dominion KX III digital KVM switches, the Raritan solution is a fraction of the price of many broadcast systems.
About Raritan
Raritan, a Legrand Company, is a proven innovator of KVM-over-IP solutions for data centers of all sizes.  In over 76 countries and 50,000 locations worldwide, Raritan's award-winning hardware solutions increase energy efficiency, improve reliability, and raise productivity.  For more information, visit Raritan store on KVMGalore.com.