BrightSign – now available on KVMGalore
Posted on April 30, 2016 by KVMGalore | 0 comments
BrightSign HD media players and digital signage solutions - now available on KVMGalore
BrightSign, the global market leader in digital signage players, has made its media-players, network solutions and FREE digital signage authoring and publishing software (BrightAuthor) available for pre-sale consultation and purchase on KVMGalore.com.
Powerful performance and reliability
Designed exclusively for digital signage, BrightSign's slim OS delivers superior signage capabilities and exceptional Full HD and 4K video quality with a solid-state platform you can depend on. This PC-less solution delivers the absolute highest standard of reliability and affordability. Plus its green, energy-efficient media players consumes less power to help keep operating costs down. Perfect for digital signage, retail information displays, entertainment, leisure, education, message boards or media player streaming to a digital sign.
Easy to use, sophisticated features
Full HD and 4K media playback, live HDTV input and Live Text, HTML5, powerful video decode and scaling technology, advanced interactive options. With BrightSign you get dynamic results without difficulty. Bypass the digital signage learning curve completely with BrightSign's abundant, easy-to-use features and simple presentation creation tools for building multi-screen video walls, multi-zone screen layouts and more. Hook your audience with dynamic content integration and engaging interactive controls. BrightSign's abundance of sophisticated features means that you'll be limited only by your imagination.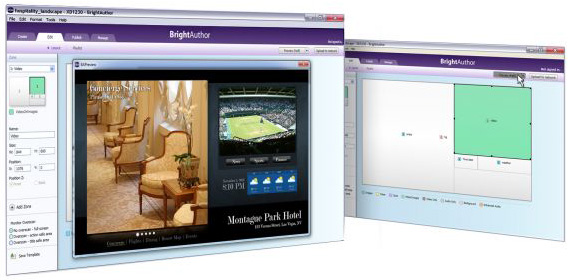 All inclusive options
All media-player models include free BrightAuthor software, providing an easy way to create and publish presentations using an intuitive drag and drop interface. Every network media player includes free networking solutions as well as options for measurement and feedback reports, content management and network administration tools. With a wide range of networking options and feature-rich software available in multiple languages, BrightSign offers the best-equipped signage solution on the market today.
View brochure