ATEN Pro AV support 4K Ultra HD
Posted on December 19, 2014 by KVMGalore | 0 comments
ATEN Pro AV HDBaseT-enabled HDMI splitters and extenders provide the capability to extend signals up to 330 feet using a single CAT-5 cable for 4K Ultra HD video distribution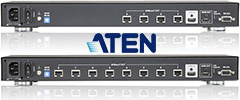 KVMGalore today announced the availability of ATEN's expanded ATEN Pro AV (professional audio/video) product line with the addition of three new HDBaseT-enabled solutions: a 4/8-port HDMI over single CAT-5 splitter (VS1814T and VS1818T), an HDMI HDBaseT extender with USB (VE813), and a DVI KVM extender (CE610). In addition to these new products, KVMGalore is also offering HDMI extenders (VE812 and VE814) that were announced by ATEN as part of the company joining the HDBaseT Alliance in October 2014.
HDBaseT technology is ideal for professional A/V installations and provides a simple and cost-effective solution to transmit 4K ultra high definition signals up to 330 feet (100 meters). It enables a single CATx cable to replace multiple cables and connectors in home entertainment and business environments.
Through the launch of additional HDBaseT-enabled products, ATEN offers the capability to support video distribution for a broad range of 4K ultra HD applications. The HDBaseT product line integrates 4K resolution, Ethernet connectivity, RS-232 Control, single CAT-5 connection, 330 foot extension and anti-jamming design.
ATEN's new HDBaseT Professional A/V products include:
• HDMI advanced media distribution solution – VS1814T/VS1818T coupled with the VE812R receiver can deliver one HDMI input to four or eight HDMI displays and extend the signals up to 330 feet with a single CAT-5 cable. The HDMI splitter is a fast and efficient way of delivering digital high definition video from one input source to multiple destinations.
• HDMI and USB extender – Equipped with USB connectors that provide touch panel control and file transfer functionality, VE813 extender can sync files and folders between portable and desktop computers. Additionally, the extender utilizes ExtremeUSB® technology that supports all USB 2.0 high-speed devices such as a keyboard, mouse, flash drive, and printer. Ideal for medical imaging and digital signage, the extender supports several HDMI features such as 3D, deep color, 4K, CEC and HDCP.
• DVI and USB extender - The new CE610 integrates transparent USB 2.0, providing peripheral sharing and support for touch panel control and file transfers. Using a single CAT-5 cable, local PC video/keyboard/mouse signals can be extended up to 330 feet for convenient remote server management. Ideal for applications where touch panel is required, such as transportation centers, medical facilities, shopping malls.
"Our participation in the HDBaseT Alliance continues to evolve along with the capabilities of our 4K ultra HD product line," said Kevin Chen, President of ATEN International. "As the market moves toward 4K ultra HD video applications, ATEN will deliver new solutions, keeping pace with the needs of customers as they embrace this innovative technology."
To find out more about ATEN products, please visit ATEN's store on KVMGalore.com.