Are your digital-signage screens showing properly?
Posted on June 27, 2013 by KVMG-CMS | 0 comments
"Are the screens showing what they're supposed to be showing?"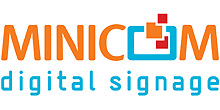 For many digital signage operators, that's the question that keeps them awake at night.
One answer is to go and look at the screens in question.  A better answer is DS Vision Digital's unique Media Feedback Monitoring Engine which constantly supervises content playback and sends an immediate alert if content is not being displayed properly.
In order to determine if your system performance matches your expectations, DS Vision Digital facilitates end-to-end Proof-of-Performance.  Minicom Digital Signage's proprietary Media Feedback Monitoring Engine allows you to supervise, and receive immediate feedback on the media being displayed by immediately sending an alert if the content is not displayed properly, thereby improving your system's overall functioning and minimizing downtime.
The result?  Better performance and significant increase your display uptime.
 Need help? Call KVMGalore at 1-800-636-3434 or submit your question.