AdderView DDX30 for color and flexibility
Posted on November 12, 2015 by KVMGalore | 0 comments
AdderView DDX30, Adder's latest innovation in high performance KVM is now shipping
AdderView DDX30 matrix is compact, has a choice of DVI and DisplayPort dongles, and provides up to 1920x1200 resolutions at 60 fps without loss. With extension distances of up to 200 feet over a single standard CATx cable, AdderView DDX30 also features transparent EDID management, full-speed USB, and an intuitive GUI with multiview thumbnail display.
Another advantage of the DDX30, is its rock-solid performance in the field. More traditional KVM solutions needed to be configured, patched or customized for different tasks, whereas this unique matrix KVM switch provides 30 ports which can be shared and flexibly scaled between users and computers, allowing users to simply program pre-set configurations at the touch of a button. The end result being that multiple users can use presets to easily switch between multiple computer sources.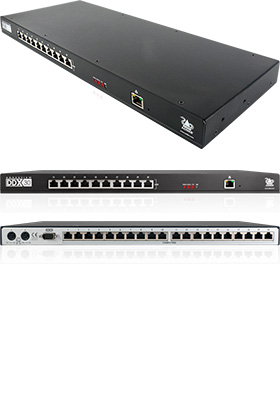 "You have 30 ports to 'play' with", said Daniel Schar, president of KVMGalore. "Unlike other KVMs,  you have the flexibility to configure the DDX30 to support up to 29 concurrent users controlling up to 23 computers, including support for dual-or quad-video computers and user-consoles." For example, DDX30 can be used to set up a 5-user x 10 computer dual-head matrix. Other multi-screen, multi-user configurations may include:
11x dual-video computers with up to 4 consoles
7x triple-video computers with up to 3 consoles
5x quad-video computers with up to 2 consoles
Scalable and modular, AdderView DDX system consists of the DDX30 matrix switch, DVI and DisplayPort CATx dongles connecting the computers, and DDXU user stations connecting the user-consoles. Configured over the network, system administrators can set up an AdderView DDX30 system using their tablet or mobile phone, and have the flexibility of setting up user permissions for view only, shared, exclusive or private connection modes.
Above all, AdderView DDX's digital video is completely uncompressed, transmitted over standard CATx up to 200 feet from computer to user, making  this digital KVM a pixel perfect, lossless matrix solution for discreet workgroups.