New AdderLink DV100 digital video extenders
Posted on March 31, 2014 by KVMG-CMS | 0 comments
AdderLink DV100 new family of cutting edge HDMI and DVI extenders and splitter-extenders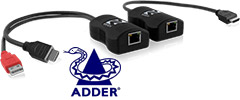 Adder has launched its AdderLink DV100 range of HDMI and DVI point-to-point and point-to-multi-point extenders. The new AdderLink DV100 technology can intelligently interrogate its own network to determine whether specific content is being displayed on connected screens. This enables advertising networks to offer payment structures based on an accurate proof of display (P.O.D.) basis, as well as save $100s on maintenance as display errors can be inspected remotely over an IP link.
With a 150 foot extension distance, rollout using AdderLink DV100 technology is a wonderfully simple procedure. Being line powered, once the transmitter is connected, no additional power cabling is required at the receiver points. This makes AdderLink DV100 a perfect choice when upgrading existing systems as it negates the need to install additional power points into your signage environment.
AdderLink DV100 point to point system supports HDCP and full EDID pass through ensuring continuous correct operation. As a professional signage technology, AdderLink DV100 is designed to work silently and continuously to deliver faultless audio and video 24/7.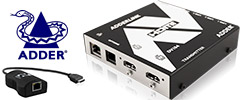 AdderLink DV100 4-way transmitter unit, AdderLink DV104 also features automatic failover, allowing two digital playout machines to be connected and automatically switched if the video output from one unit should fail. This is vitally important when 100 per cent uptime is required for professional applications.
"The AV market, particularly those companies specializing in digital signage, are under continued pressure to make cost efficiencies and differentiate their offer", said Tim Conway, VP of Adder Corporation. "At Adder, we recognize this and are continually looking to improve connectivity solutions for the AV market. We already offer the AV industry a real-time IP based KVM Matrix solution in the AdderLink Infinity. The launch of AdderLink DV100 HDMI extenders expands the capabilities of the Adder offering and reaffirms our commitment to providing pixel perfect video extension and connectivity."
AdderLink DV100 HDMI extender is ideal for deployment in the digital signage environment. It includes Adder's innovative Proof of Display (P.O.D.) technology that enables the remote monitoring of all screens within a signage network over an IP link. This in turn allows network owners to bill advertisers with the assurance that their content has been displayed. In the command and control space, AdderLink DV120 DVI extender brings simplified operations to the visualiser or video wall and allows the computer hardware to be stored out of the room.
"The extenders are great problem solving products," says John Halksworth, senior product manager, Adder Technology. "They have a prominent place in any AV engineer's toolkit and are characterised by their simplicity. The plug and play functionality brings convenience and ease of use to any installation. AdderLink DV120 DVI extender - used in combination with an AdderLink Infinity unit in a control room environment - enables users to add flexibility and functionality by offering a complete, integrated solution."
AdderLink DV100 and AdderLink DV104 systems are now available on KVMGalore.
Need help? Call KVMGalore at 1-800-636-3434 or submit your question.
Categories: A/V Distribution, Digital Signage, HDTV, New Products
Tags: A/V distribution, Adder, AdderLink DV100, DVI, EDID, extension, HDCP, HDMI, INFINITY, video-extender