Advanced 2D to 3D video processor with 4-port HDMI switcher
Posted on July 28, 2012 by KVMGalore | 0 comments
3D Complete+ uses advanced Qvu™ technology, giving the ability to frame by frame dynamically improve the image quality and accelerate the processing of any standard video content into amazing 3D for your 3DTV. Applying the most advanced customized algorithms we're able to deliver the first personalized 3D experience for all of your media content. You now have the power of creating all the content you wanted and control the amount of 3D you want in real-time.
How It Works
1. Basic Display Hardware You Will Need
You will need a 3D TV or 3D-Ready projector along with their appropriate 3D glasses to view and enjoy your converted 3D content experience.
2. Any Digital Content You Can Find
The 3D Complete+ can transform all DVDs, Blu-ray's, TV Sporting events, television shows, digital home movies, online streamed videos and photos into 3D, which can be personalized to your preferences.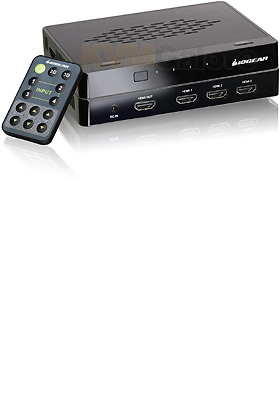 3. Connect Your Home Electronics
Hook up 4 of your favorite HDMI enable devices to the 3D Complete+ such as Blu-ray / DVD player, media server, cable / set top box, & game console*. You will have the ability to experience any content these devices can play in 3D!
4. IOGEAR 3D Complete+
The 3D Complete+ is a 4-port HDMI switcher that can upscale standard 2D digital videos and photos into high quality content and convert into vibrant 3D viewing with user-defined effect controls for 3D Level, Pop out, and Depth for a custom tailored 3D experience for your 3DTV.
User Defined Control Real-time 2D to 3D
3D Level - Choose from the most optimal settings for the best 3D experience
Depth - Allows you to control the amount of depth going into your 3DTV for amazing dramas and thrillers
Works With Any 3DTV DisplayPOP - Gives you the freedom to fine tune the amount of action coming out of your 3DTV
Active / Passive 3D
IOGEAR 3D Complete+ works with both "Active" and "Passive" technology 3DTV's, Projectors and Glasses making it a universal solution.
"Active technology" 3DTV's require the powered active shutter glasses, where as "Passive technology" 3DTV's uses the more simplified non-powered glasses to enjoy 3D on the specific brand 3DTV.
Bonus Features Beyond 3D

Active Video Enhancement
Instantly makes any HDTV quality better!
Dynamic frame by frame enhancement actively delivers a more vibrant, crisp and clear video image. Scene by scene, every movie will be the best it can be which brings you even more into the movie.
Upscale
Revamps your older videos into stunning High Definition giving them new revitalized life!
Upscale technology takes your movies and videos from standard 480i/p and processes them to 720p. Movies and videos that are already in 720p are taken a step higher and turned into beautiful 1080p HD for the best quality on your HD or 3DTV.
4 HDMI Sources
Connect up to 4 HDMI source devices to upscale, enhance and convert from 2D to 3D for your 3DTV.
DVR / Cable box
DVD / Blu-ray Player
Any game console for video games
Home computer / Laptop
Works with 3D Ready Projector
Provides the special "Page-Flip" and "Frame Sequential" formats needed for 3D ready projectors to play 3D content from a 3D-Blu-ray player. Without these formats, a 3D ready projector is not able to play 3D movies when directly connected to a 3D-Blu-ray player.
*Low latency
Need help? Call KVMGalore at 1-800-636-3434 or submit your question.