1U USB KR keyboard mouse tray – fits any rack
Posted on November 6, 2013 by KVMG-CMS | 0 comments
With KR keyboard mouse tray there will be no more dangling keyboard and mouse in your rack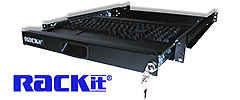 KVMGalore today introduced Rackit's new KR keyboard mouse tray, replacing errant peripherals at the rack.
Rackit's rack-mount KR keyboard mouse tray integrates a full-size 104-key Windows keyboard with a 2-button USB touch-pad into a sturdy, low profile rack-mountable tray that can be installed in any 4-post or 2-post IT equipment rack.
The slim 1U 19" EIA compliant design requires very little of your expensive network real-estate. Pull it out when needed; tuck it back in to get it out of the way - no more cumbersome dangling peripherals in your IT rack.
And the inset handle on the KR keyboard mouse tray gives you the flexibility to install it in just about any type of rack, cabinet, and enclosure.